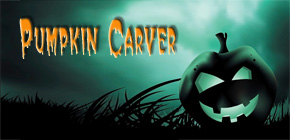 Now you can carve your own pumpkin right on your Android phone or tablet, with Pumpkin Carver!
New for 2014, choose from 12 pumpkins in the full pumpkin patch (and double the number of pumpkins in the free pumpkin patch) to make the pumpkin your own!
Version 2 of Pumpkin Carver and Pumpkin Carver Pro HD brings new features, new pumpkins, and high-resolution images to help you make the most of your Halloween!  See the press release announcing Pumpkin Carver Pro HD!
Get carving now for free, or take advantage of your high-resolution phone or tablet with the Pro HD version!
Now available on all of these platforms:
See here for our App Privacy Policy.
Also, thanks to Tiwiz for translating Pumpkin carver into Italian!  Check out his apps on Google Play.

Now get carving your pumpkins, and have a Happy Halloween in 2016!