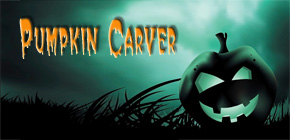 Now you can carve your own pumpkin right on your Android phone or tablet, with Pumpkin Carver!
Just in time for Halloween 2012, version 2 of Pumpkin Carver and Pumpkin Carver Pro HD bring new features, new pumpkins, and high-resolution images!  See the press release announcing Pumpkin Carver Pro HD!
Get carving now for free, or take advantage of your high-resolution phone or tablet with the Pro HD version!
Now available on all of these platforms:
Also, thanks to Tiwiz for translating Pumpkin carver into Italian!  Check out his apps on Google Play.

Now get carving your pumpkins, and have a Happy Halloween in 2012!