Droid Secret Tips for Android 1.5 devices (a.k.a. "Cupcake") has been discontinued.  Please select a different version, or download the most recent release below.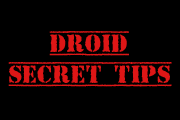 This Android app shares tips and secrets on how to use your Droid phone or other device and push it to the limit.  While it can run on newer Android versions, it is intended for devices running Android 1.5 (nicknamed "Cupcake")
Other versions:
While this app is no longer available on Google Play, it can be downloaded directly:
Download right here (version 2.3.1)!
Original Description from Android Market
** This version is for Android 1.5 (Cupcake). If you don't have this older version of Android on your phone, please install "Droid Secret Tips" or Droid Secret Tips Pro", as these versions have all of the latest features and will be more enjoyable to use. **
Supercharge your Android phone or tablet with Droid Secret Tips and gain access to tips and secrets about how to use the Droid and other Android devices. Find out how to make your phone run faster, tweak the preferences, and find features you never knew existed. Find new apps that fit your needs, and get the most out of the apps you already use.
Investigate parts of Android that you never knew existed with secrets and tips dug up from all over the internet, and master your Droid!
The database of Droid tips is frequently updated, and the updated tips are downloaded automatically.
New features and updates are frequently being released, so be sure to turn on automatic updating or come back to check for updates often.
Most of these tips are for all versions of Android, but a few may be specific to the later 2.x releases.
The permissions are required to download new tips and because the free version is ad-supported.