Push your Android device even further with Droid Secret Tips PRO. It contains all of the Android tips and secrets from the free version, and adds these features:
No Ads

Swipe to change tips or change font size

Smaller size and faster loading

Advanced/Pro tips and hacks

Access to the very newest tips as they are developed

Early access to all new features before they are available in the free version
Supercharge your Android phone or tablet with Droid Secret Tips and gain access to tips and secrets about how to use the Droid and other Android devices. Find out how to make your phone run faster, tweak the preferences, and find features you never knew existed. Find new Android apps that fit your needs, and get the most out of the apps you already use.
This "Android how to" resource is packed with knowledge to help you investigate and learn about parts of Android that you never knew existed with secrets and instructions dug up from all over the internet. It's time to master your Droid!
There are already over 100 Android tips in this how-to app, with many more on the way. The database of Droid tips is frequently updated, and the updated tips are downloaded automatically. You can search for something specific, or flip through the tips by experience level.
New features and updates are frequently being released, so be sure to turn on automatic updating or come back to check for updates often.
Most of these tips are for all versions of Android, but a few may not apply to older versions of Android before 2.0. Tablet-specific tips for Android 3.0 are in the works.
This app and all Android tips are in English and Spanish.
The internet permission is required to download new tips. The network permission is to prevent download if you are not connected to the network.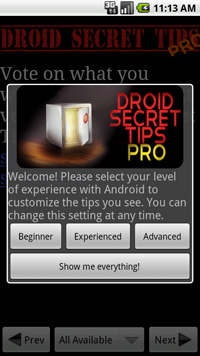 1.00.0
1.1.0
Added swipe up/down to change text size and refined the side-to-side swipe
Added menu options
Fixed bug preventing some of the downloaded tips from loading
Added long-press option to copy text to clipboard, email, or forward by text message
1.2.0
Doubled number of tips since version 1.0
Added Preferences menu
Added ability to only show new tips since version 1.0
Added ability to hide the buttons at the bottom
Resolved a possible conflict if installing Pro version and an older free version
Added 'Submit a request' menu option
1.2.2
Added dialog to show that tips were being downloaded.
Made a few changes to reduce loading time
1.3.0
Implemented requested feature:  search capability
1.3.1
Fixed an uncommon crash when changing orientation during progress dialog
Updated to use new icon from Spiderfly Studios
Minor spelling corrections and bugfixes
Minor interface updates (e.g. search box)
Added permission to check network state before trying to download new tips
1.3.2
Fixed a crash when tips can't be loaded
2.0.0
Increased loading speed for all versions
Added Spanish language support (app and tips).  Now English and Spanish are fully supported.
Fixed a crash when network can't be found or queried (such as on WiFi-only tablets)
Moved all tips into main app, so download is not required (to speed up loading).  New tips will be added into main app at each release, rather than needing to be downloaded.
Enabled search directly from the search button
Added preference to invert colors (black text on white background)
Added welcome screen on first run to help users select a tip category
Added preference to view latest tips before they make it into the main app (English only)
2.0.1
Fixed a crash when moving to a previous tip that doesn't exist.
Switched to beginner tips automatically when new user selects that level on welcome screen
2.1.0
Added preference to override system language setting within Droid Secret Tips Pro
Updated tips database (new tips and a few corrections)
Fixed bug when sending email with no email client installed
2.1.1
Fixed a force-close that occurred after changing the preferences
Fixed an issue with the legacy tips file
Additional fixes to help prevent rare crashes
2.1.2
Big update to tips database (new tips, corrections, etc.)
A few tweaks for stability (let us know if you still have any trouble!)
2.1.3
Made another tweak for stability.
Updated tip lists.
2.2.1
Added more tips
Minor updates to ensure stability
2.3.0
fix to ensure tip text doesn't cover buttons
When resizing tip, text can't be made too big to see all of it
2.3.1
Added a several more tips, including some for ICS (Android 4.0)
Fix to ensure latest tips can still be downloaded on a wifi-only network connection.
2.3.2
2.4.0
Added more tips
Cleanup and bug fixes
2.5.0
Added Jellybean (Android 4.1) tips
Stopped text from resizing too small after search
Stopped showing forwarding options that aren't available on device (e.g. SMS)
Fixed button size for smaller screens
2.5.1
Immediately change language when changed in preferences screen
2.6.0